The Symposium will be held in the city of Foz do Iguassu, in Parana state, Brazil. Foz do Iguassu is located beside the famous "Iguassu Falls", one of the largest waterfalls in the world, located over the Iguassu River at the border of Brazil, Paraguay and Argentina. In the middle of a tropical forest park, the Iguassu falls were declared a Natural Heritage of Mankind by Unesco in 1986.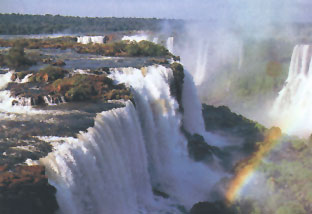 Near to the city of Foz do Iguassu is also located Itaipu, the world largest hydroeletric power plant in operation, which can be visited. Foz do Iguassu has a complete infrastructure to receive visitors, with the second number of hotel beds in Brazil, from economics to 5-star resort categories. The city can be reached by direct flights from Sao Paulo, Rio de Janeiro and Brasilia.
See the links bellow for further information about the city of Foz do Iguassu and the "Iguassu Falls":
The Convention Center of the Mabu Thermas and Resort will host the event; check out the hotel's website here. Special rates will hold for the Symposium attendees. Details on registration and hotel reservation will soon be available.